brrrrrr we are really having some cold cold weather. I think the warmest it's been since last week has been about 28 degrees and that little bit of snow we got is still around. The dogs are so funny with this cold weather. Maddy, our 7 year old golden retriever, loves the cold and the snow. Sometimes she just goes out and lays on the deck in the snow and takes a little nap lol .. Chip, our 1 year old chocolate lab, is a bit more of a whimp when it comes to the cold .. does what he needs to do outside, plays a bit and then wants in, and if you don't jump right up and let him in, he starts to shake and looks sooo pathetic! Doesn't look like it's going to warm up much before middle of next week .. brrrrrrrrr
I had a nice birthday .. decided the day before that I really didn't want to spend my birthday at work .. so I took both thursday and friday off on vacation .. sure did feel good! It was just really nice to wake up, have my coffee and just relax .. in the afternoon I went and had a pedicure and my nails done. My family took me out to dinner at the Macaroni Grill .. yummy food :) I got a docking station for my ipod from Terry (DH) and Robert (DS#2), 2 wonderful pictures of Seattle from Chris (DS#1) and Monica (DIL).
Friday my good friend Lisa and I were supposed to get together .. we always take a day of vacation for each other's birthday's and go and play. Because of the weather we decided to reschedule our day together .. I didn't want her driving home late in the evening with all the black ice we've had around here. So I spent the day cleaning/reorganizing my stitching room, filled a bunch of freebies and leaflets that I'd been ignoring .. kitted up a few projects and made a list of floss that I need. I still haven't finished deciding what I'm going to order from Drema for with my birthday discount, but I think I'll definately be ordering some overdyes, can't beat 25% off :)
I finished a cute little stitch by Lizzie Kate, called Joy, from Tiny Tidings XI. I love the banner :)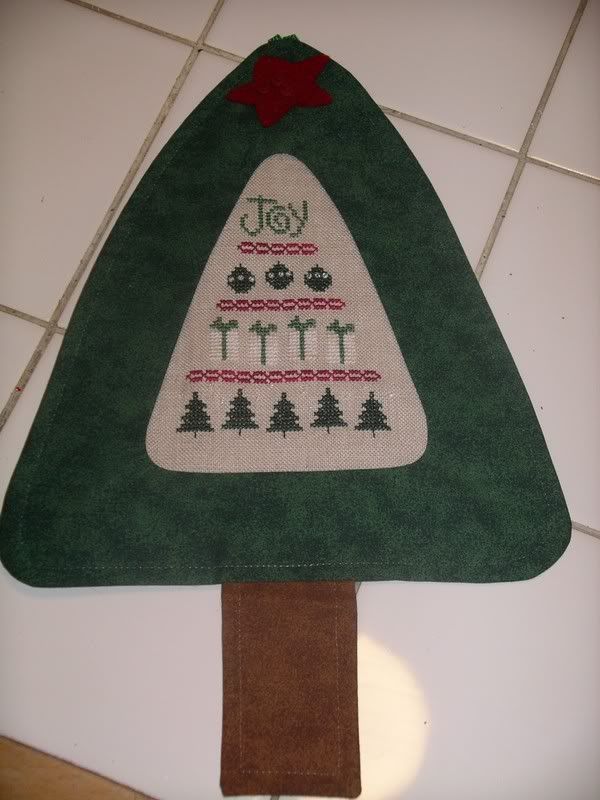 And there's a picture of one of my WIP's .. I started this last October, it's called Pursue Your Passion by Blue Ribbon Design .. I only have to finish the design around one of the hearts and then the border and it will be done .. I just love this piece ... the words mean a lot to me .. and of course I love the color lol .. I'm using Gloriana Silk, Garnet, on a very yummy feeling piece of white evenweave.
Sorry the pictures are sooo big! Maybe I should go back to using webshots, at least that way even though the pictures are thumbnail size, you can click on them and enlarge the picture .. what do you think???