Sad sad day across the nation .. please keep the families of the slain children at Viriginia Tech in your thoughts and prayers .. and hug your kids, call a dear friend you haven't talked to in a long time, call your parents .. reach out to those around you .. you never know when they will be taken from you.
I have a couple of finishes .. finally! lol .. I finished In Every Nest when I was at the retreat last month .. I just love this silly design!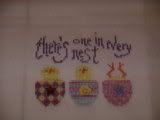 and I finished another Christmas ornament that was on my list .. I didn't realize until I took the picture that I still need to add his bell around his neck .. but here he is anyway ..
and here's my WIP .. the 25th Anniversary piece I'm doing for my best friend and her DH .. it's a Sisters and Best Friends design that I bought at the retreat .. I love the design but the colors just didn't work for me .. I've changed them but like I've said before .. I'm really uncomfortable with making color changes .. Lisa's colors were shades of blue .. that's why I picked the verigated blue thread .. I like the rose above the 25 in all silvers, since the 25th is the silver anniversary .. I think I'm doing their names and wedding date in WDW Garnet .. she carried burgandy roses .. and the little green thingys are actually little roses all over the fabric .. I think I'm going to alternate garnet and gray roses .. or maybe just all garnet roses .. whatcha think?? honesty please *smile*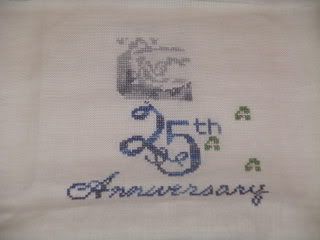 I hope you all have had a great weekend and are doing lots of stitching!
I'm grateful for my family