It's been a great weekend so far .. had lunch with my dad and his gf then took his two dogs and our two dogs to the off leash beach .. it's been overcast here but not cold .. out time at the beach was soo much fun and the dogs have been sleeping all evening .. think we wore them out!! lol DH fixed a yummy enchilda dinner and we watched Bobby on in demand .. it was a wonderful movie!

Tomorrow is the nascar race .. it was rained out saturday night .. then I get to go and pick out my mother's day present .. flowers for the front hanging baskets *smile* and then dinner with the whole family .. I'm really looking forward to that .. and not having to cook! lol

I didn't get any stitching done last week .. did put a few stitches in the Anniversary piece this evening while watching the movie .. hopefully more stitching tomorrow and I should have it done! and then I can move on to something else .. my rotation has gone to hell in a hand basket lately .. and I really want to get back to it .. hopefully this next week! Maybe I'll start posting my rotation more consistently and that might keep me on track? or will it? lol

I have a picture of my new dishes .. thanks for the suggestion Michelle .. it is fun seeing all that color! .. soo here's the new dishes ... check out all the different sized bowls! lol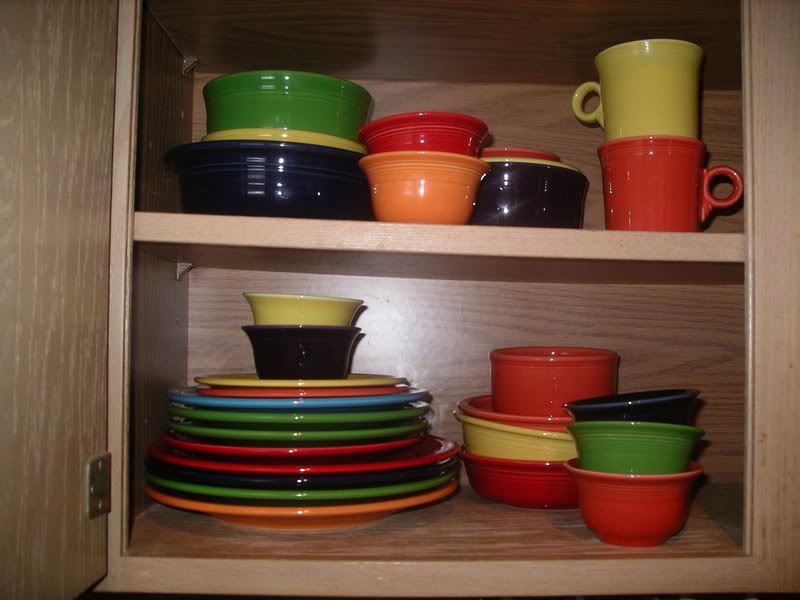 I hope you all have a wonderful Mother's Day with family and friends .. and here's hoping all you mothers get time for some stitching too!
I'm grateful for comments on my blog .. I love them :)